While our sites remain open, we must remind you that you should only visit if it is essential. We have our virtual tours for new clients but remember, we are all to keep within the government guidelines in order to remain safe and protect others.
KENT SPACE COVID-19 UPDATE
At Kent Space the health and safety of our staff and customers is our number one priority. With the recent developments regarding Coronavirus in the United Kingdom we want to assure all customers of the steps we are taking to keep you all as safe as possible in the current climate.
Storage and warehousing is part of the logistics chain delivering goods and providing storage services and is not included in the list of retail and other businesses identified for immediate closure. The Government has specifically said online retailing should continue and we have many of these online retail businesses operating from our centres.
These businesses require our centres to remain open allowing them to continue trading. Many of these businesses are selling a range of essential goods and providing important services at this time. We also have some new customers who have had a sudden need for short term storage triggered by the recent lockdown.
However, we have to balance that against the regulations required to limit the spread of Coronavirus.
Currently our centres remain open and units can be accessed 24/7. We shall be operating on skeleton staff and reception will not be open to the public but rest assured we are available online, remotely and are even able to speak to you face to face and show you round with a video call.
Please call us anytime with your enquiries on:
Chatham – 01634 673 177
Ashford – 01233 222 233
Ebbsfleet – 01474 555 300
We are advising customers as per the Government guidelines to consider any non-essential travel and to follow social distancing protocols.
We would like to remind all of our customers of the following practices:
• Wash your hands frequently with soap for 20 seconds
• Avoid touching your eyes, nose and mouth
• Use an alcohol-based hand sanitiser
• If you need to cough or sneeze, do so into the crook of your elbow
• Please do not visit our stores if you show any symptoms of coronavirus
• Customer toilets are located on the ground floor and have provision for handwashing
Thank you for working with us to ensure that Kent Space remains a safe space for our customers and our staff.
For more information and the Government's Action Plan go to nhs.uk/coronavirus.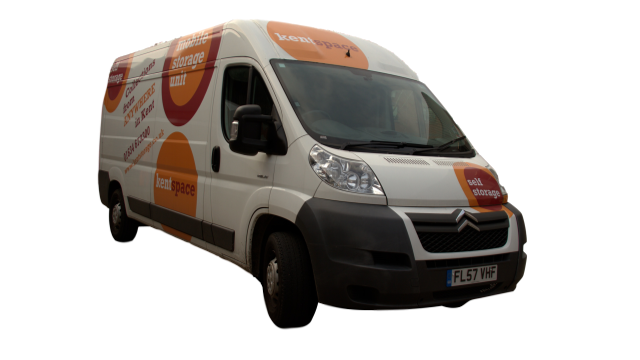 NEED YOUR THINGS PICKED UP?
At Kent Space we understand that getting your things to the storage space can be one of the hardest things. Kent Space is happy to provide FREE transportation for your goods from anywhere in Kent (min 6 month stay). Simply let us know when you require the van and leave the rest to us.